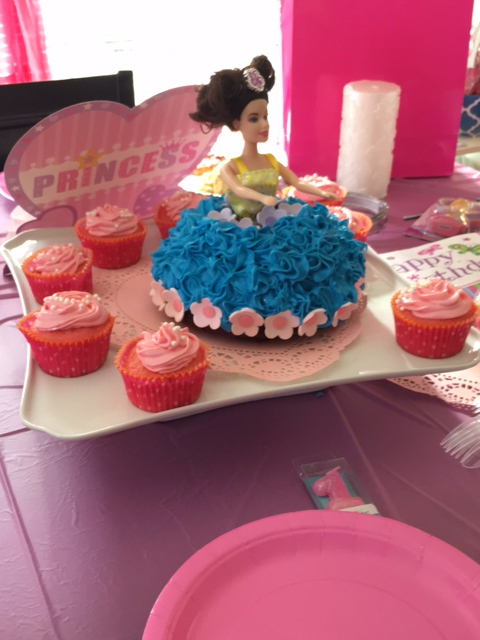 Once upon a time there was a Sweet Tooth Fairy that lived in a far, far, away whismical forest. She dreamed Every morning of waking up to the sweet smell of pastries, that her Mother, aunt, and grandmother fairy would create in their magical cottage. The smell was so fragrant it seemed like you could almost taste the pastries.
Everyday the Sweet Tooth Fairy would practice waving her wand around in the air wishing that one day that she would be able to create desserts just like her Mother, aunt, and grandmother Fairy. Everything she began to wish for after touching it appeared right before her very own little eyes. "Cookies, cakes, and pies oh my," she sang, while waving her magic wand, and licking every drop of frosting off her finger tips.
At a very early age, the Sweet Tooth Fairy realized she had a special gift that was passed on to her through her family. At last the Sweet Tooth Fairy's dream had come to past, her business was born and she lived happily ever after.
The Sweet Tooth Fairy offers a wide range of all natural desserts made from scratch. We also provide Reduced fat products. To all you waist watchers we have something for you as well, our cupcake mini's are just the right size for you, the only thing you will be missing is the calories, but not the flavor, so spare the guilt..indulge
What better way to say I love you, thank you, or just because; our desserts our perfect for anytime or any occasion(baby and bridal showers, etc..). Allow us to host or cater your next special event. Cherish every moment you get with family and friends.
Sweet Tooth Fairy also specializes in custom made birthday packages. All party packages contain: A special gift from the Sweet Tooth Fairy, party favors, personalized birthday theme decorations. We can help make your next childs birthday wish come true.
We do deliver within the surrounding areas, with a minimum purchase of $50 or more. Our Sweet Tooth Fairy requires at least 72 hours to create your special dessert.
Sweet Tooth Fairy~ Signature Desserts:
Lemon Tart Cake~ Pucker up all you lemon lovers this cake is sure to please your taste buds with just the right balance of tart and topped off with a zesty lemon cream cheese frosting.
Chocolate Overload Cake~ Beware all you chocoholics this cake is smothered in a ton of chocolate Ganache and rich chocolate fudge frosting. This cake is a chocolate lovers dream, It's sure to cure your Sweet Tooth.
Classic Red Velvet Cupcakes~ This is the silkiest Red Velvet Cake you will ever eat. This cake is very moist and delicious. It is covered in a mound of rich cream cheese frosting.
Toasted Pecan Pie~ This pecan pie is filled with a yummy vanilla and rum flavored custard with oven toasted pecans that lays on a delicate butterery crust. This pie makes you feel all warm and fuzzy on the inside. A cup of coffee would compliment it well.
Southern Peach Cobbler~ I'm Grateful My Beloved Mother passed her recipe down to me to share with others. Our family and friends literally formed a line during the holidays and birthdays to get a serving of this pie. I have never had any pie like this before!!!!! The crust was so flaky and dumplings were tender, and the peaches were seasoned to perfection with just the right amount of cinnamon and other spices.